ACHIEVEMENTS in the 1st. year
Oct 2,2018
SPORTS TECH TOKYO Program Launch
Oct 31, 2018
Program Information Session (Japan)
We hosted an information session for potential participants and partners in Japan at Tokyo Midtown Hibiya BASE Q. Approximately 500 people attended, including those from startups, corporate partners, sports teams, leagues, federations, and media. Briefing for the SPORTS TECH TOKYO Programs and other sessions were conducted. At a panel discussion, Takeshi Okada, former coach of the Japanese national football team, Kojiro Kurotobi, who runs SPORTS BULL, and Hiromu Nishiuchi, author of "Statistics is the strongest discipline" took part. During the event, the audience roared in surprise when a video message from Keisuke Honda was screened, marking a great start for the big program.

Nov-Dec, 2018
Program Information Session (Global)
We held information sessions for the SPORTS TECH TOKYO program in 6 cities around the world, including Boston, New York, Chicago, Los Angeles, San Francisco, and London. As sports industry gains momentum in Japan, interest in Japan was also growing, and so there were many questions raised from startups in each session.

Jan 31,2019
Application Closed
Despite being the first year, we are happy to announce that we receive applications from around 300 startups from 33 countries. The chart below shows the statistics of startups that have applied by country and sub-category within sports tech. We can see that a wide variety of startups from different countries and regions have submitted applications.(N=Approx.300)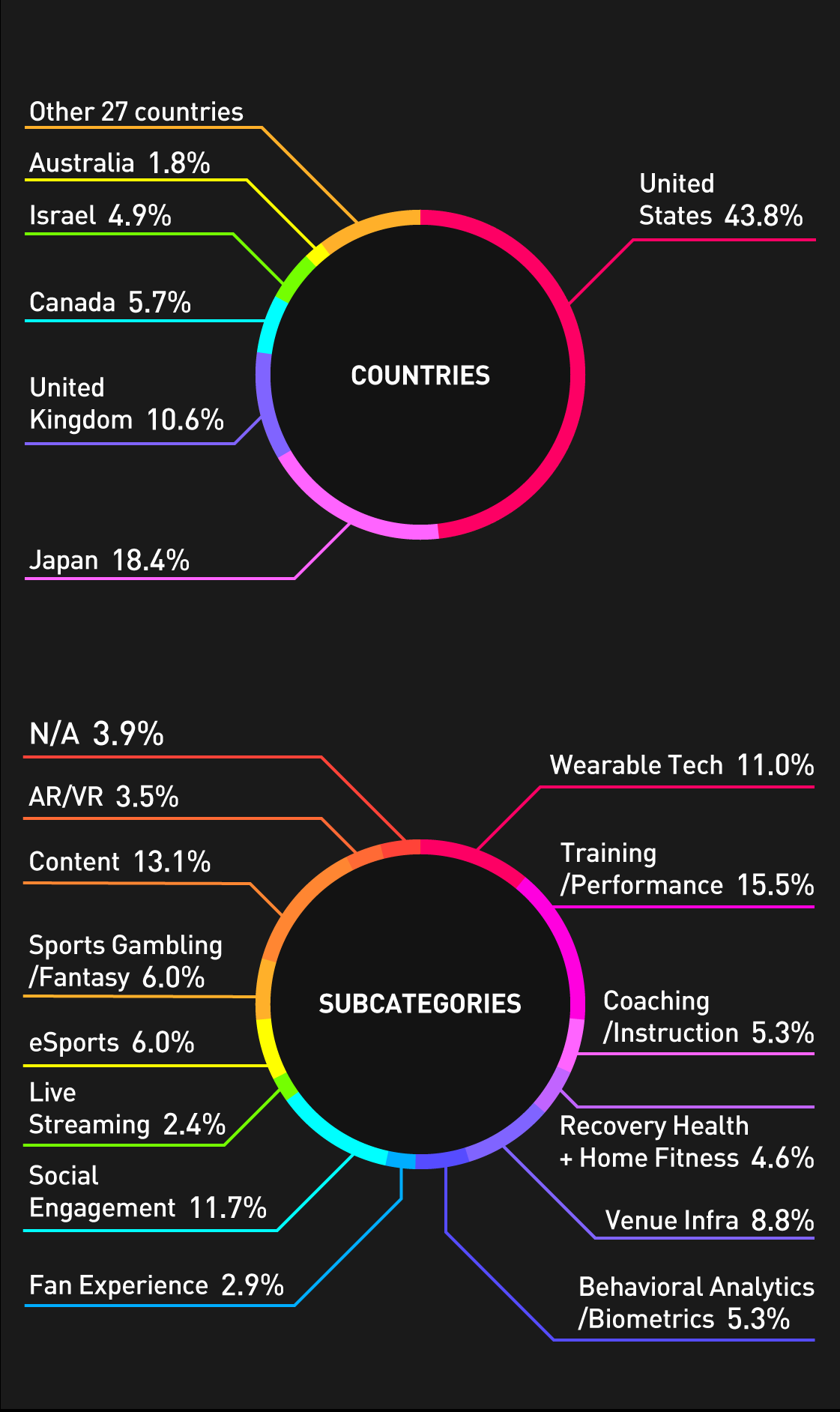 Feb 2019
The First-Round Reviews of Startups
We selected 159 startups out of 300 applicants as "Participants (as startups that passed the first round of reviews )." The chart below shows the statistics by country and sub-category of Participants.(N=159)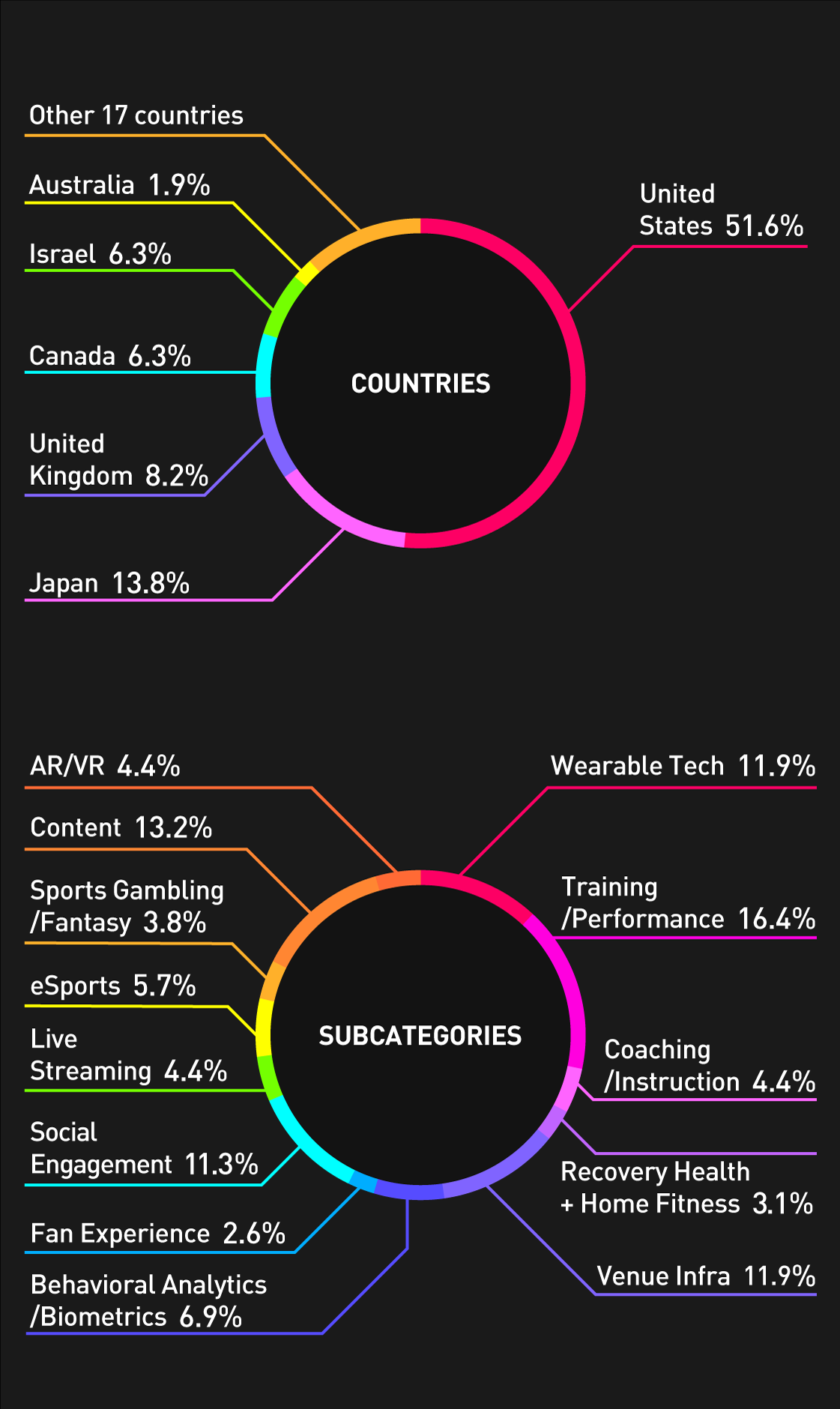 Apr 8-10, 2019
Kick-Off Conference
The Kick-Off Conference was held for 3 days at Tokyo Midtown Hibiya BASE Q and the Imperial Hotel in Tokyo. 104 startups, selected as "Participants" joined from abroad, as well as approximately 500 partners and stakeholders of SPORTS TECH TOKYO, including those from corporate partners, sports teams, leagues, federations, media, VC, CVC, and other investors. Following the keynote speech by Daichi Suzuki, the Secretary of the Japan Sports Agency, there were seminars, interactive sessions, and pitching sessions by both corporate partners, sports teams/leagues, and startups. On the final day, we had business match meetings between startups and Japanese businesses/stakeholders, with a total of 563 match meetings being conducted within just one day.


Apr 2019
The Second Round of Reviews (The Final Round)
After reviewing startups from various perspectives, including the pitch sessions and business matching sessions from the Kick-Off Conference, we have selected 12 "Finalists (startups that passed the final round of reviews)" to participate in the SPORTS TECH TOKYO business development round. The details of the finalists are as follows.
Content

4D Replay A media technology company that creates 360-degree highlight video in an instant
Social Engagement

edisn.ai Aims to transform sports consumption with AI platform based on face recognition technology that allows fan participation
Live Streaming

Pixellot A camera solution that automatically edits Game or Let's Play Videos using AI
Content

Reely A solution with image recognition technology to automatically tag sports and e-sports game videos and generate the highlight videos
Live Streaming

SportsCastr You can become a reporter, and stream videos with your own commentaries
Social Engagement

ventus/whooop! Transforming world entertainment with "FanTECH" using electronic trading cards
Behavioral Analytics
/Biometrics

DataPOWA Real-time sponsor evaluation engine based on big data analytics
Venue Infrastructure

Misapplied Sciences Special HW/SW technology that shows on a single display different images to different people
Venue Infrastructure

Mobile Media Content 3D digital library of sports venues and museums around the world
Recovery Health
+ Home Fitness

FitBiomics Improve athlete performance by analyzing data on enteric bacteria
Wearable Technology
(Products)

Omegawave OY Propose optimal training and conditioning for athletes based on neural signals and heart rate
Training
/Performance Optimization

WILD Technologies AI AI coach for female athletes providing suitable advice on nutrition, injury prevention etc. to female athletes
May 18-20, 2019
Finalist Kick-Off Conference
The finalists, partners, mentors and other related parties gathered in San Francisco and discussed how to make the most out of the business development round for the next three months. We also organized a business networking session by visiting a new stadium, and the sports business organizations that participate in SPORTS TECH TOKYO.

Aug 20, 2019
World Demo Day
The World Demo Day was held at Oracle Park in San Francisco, the home of a Major League Baseball team, San Francisco Giants, where around 300 representatives of Japanese and American companies, sports teams/league officials, investors and media gathered. On the main stage, following the opening session, 12 finalists presented the developments of their businesses.


Following the business plans that were presented by the finalists on the World Demo Day, our program finalists are carrying out POCs and pilot programs with partners such as sports teams and leagues. For example, Omegawave, which provides optimal training using athlete's biometric data, has been introduced to trial by several teams such as a professional football team, Fagiano Okayama. SportsCastr, a startup that offers a video platform for sports where fans can become commentators, pilot tested their product at the Tokyo Big6 Baseball League games. Pixellot, which offers an AI-powered sports video production solution, has been rapidly expanding its solution business with several organizations within Japan. Misapplied Sciences, a developer of technology showing different images on a single display, demonstrated its product at the CES 2020. It is also confirmed that their product will be used officially at Detroit Airport next summer. Including those projects not made public yet, more than a dozen projects are in progress.